If you could change one thing about your organizational culture, what would it be, why, and where do you begin?
Organizational and corporate culture improvement are not new concepts. Thankfully, most of the leaders I've had the privilege to work with agree that while culture improvement can be challenging and stressful, resource consuming, and often, flat out uncomfortable, the results are rewarding and positive for the organization and all those served by it.
The first and most crucial step to culture improvement begins with leaders for there should be no expectation that an organization can transform into something better without the full support of its leaders, starting in the boardroom and then beyond.
For over a decade, I have had the honor of collaborating closely with leading experts on strategies designed to help positively transform culture with the goal of improving quality, safety, communications, accountability, patient experience, and outcomes.
Through carefully customized group sessions, leadership team building retreats, manager's as mentors coaching programs, and full team communication and customer care development sessions, leaders and their teams express experiencing nearly immediate constructive change, with increased confidence after receiving a new set of practical tools and strategies that guide them in the pursuit of their goals to achieve a sustainable state of excellence.
Share with me where your culture is today, and I will help your organization eliminate the roadblocks so that it can move beyond what was — to what will be.
"Culture improvement is an action not an event."
"Thank you again Michelle for your presentation yesterday.  I had so many positive comments."
"Wonderful, it was entertaining and informative."
"Her staff retreats were well organized and very motivational."
"Very informative & helpful."
"Energizing, relevant, reinvigorating."
Introducing Culture Transformation through Art Collaboration
In a culture where living up to the promise of being patient or customer centered is a priority, there is no place for an "us vs. them" mentality.  In so many cases and too many places, this attitude represents a primary roadblock for organizations hoping and needing to achieve consistently high levels of quality, service, safety, experience, and satisfaction.
Michelle, with a team of acclaimed creative minds and artists, works with organizations to facilitate lasting and positive culture shift using art as the conduit.   In this genuinely transformative process, teams can get the heart of their behavior, intergenerational, and communication barriers that fuel discord and divide, and replace them with a joyful, captivating, and creative experience that leaves behind a meaningful artifact with the power to restore and build new levels of shared trust, respect, collaboration, accountability, and teamwork.
Seeing is not believing. Doing it!  Get your team out of the classroom and into a creative experience that will have a long-lasting impact!
The Fabric of an Organization:
Appreciating Generational Perspective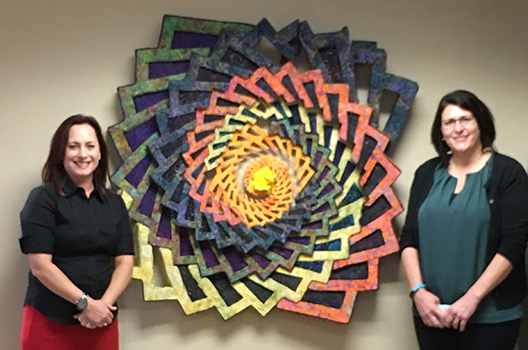 Miles of Tiles:
"The Caregiver Tree"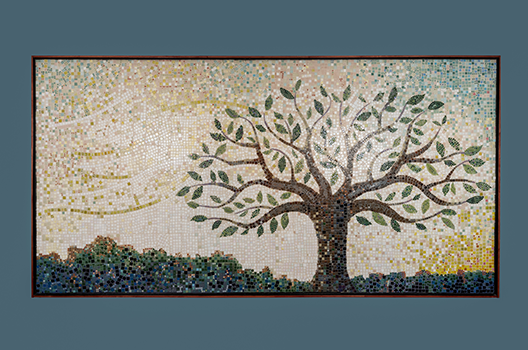 To contact Michelle to help transform the culture of your organization, visit our online Contact Page.